NEWS
Nguyen Hoang Group: Rose gardens bloom brilliantly across school, university systems
Enhancing Nguyen Hoang Group's program "Mother is Love", dozens of rose gardens have been set up at schools and universities in the NHG system. They are special gifts that students, staff, teachers, and lecturers would like to bring to their beloved mothers this July.
Special Roses for Mom
For the program, themed "Thanks for the roses", NHG has launched a competition for setting up "Special Rose Garden for Mom" at all schools and universities in the system. Although large and small, the materials, ideas and scales are different, but after only 2 weeks of implementation, the rose gardens have gradually bloomed, exuded fragrance and become attractive check-in places for students.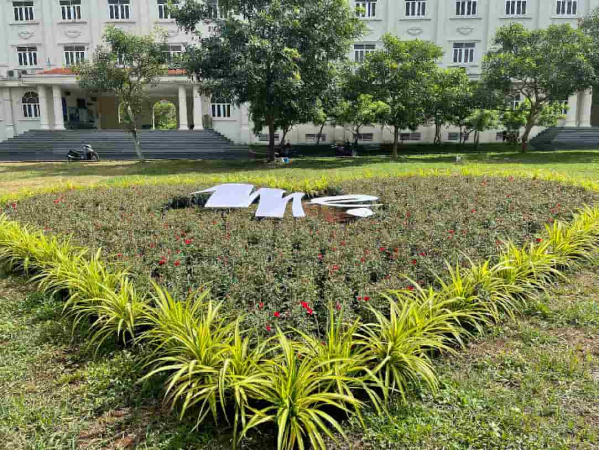 At MUT, the rose garden for Mom has the shape of a heart
Prominent is the rose garden at the Mien Dong University of Technology, with 1581 real roses planted in the shape of a heart with the word "Mother" in the center. All the rose plants are from MUT staff, lecturers, and students after only 4 days after launching.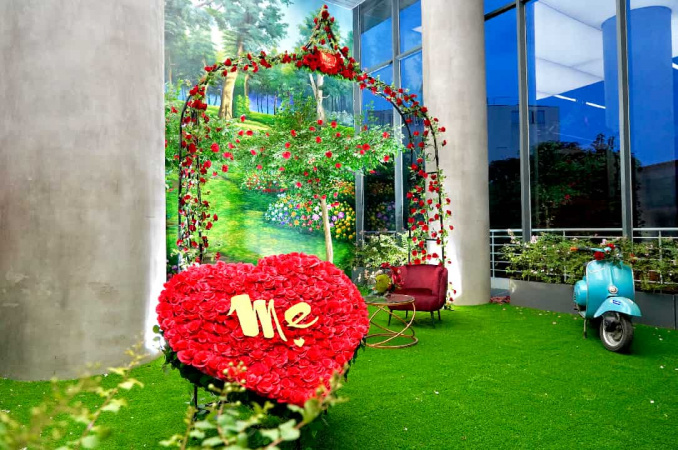 Nearly 2,000 roses by HIU students, lecturers and staff have created a fully red rose garden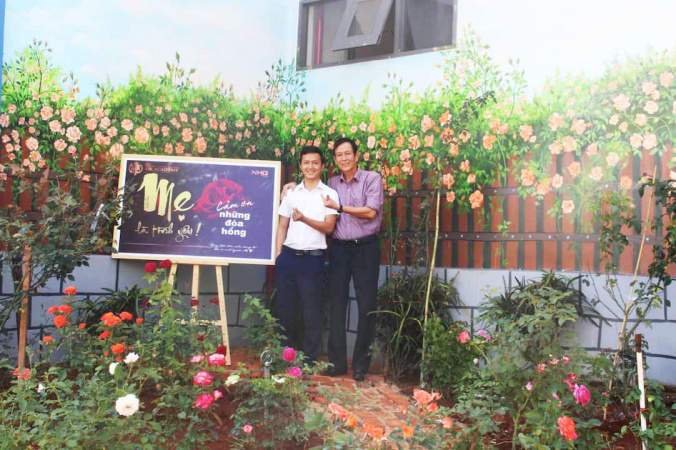 365 roses are 365 days of love that BVU students offer to their mothers
At Hong Bang International University, the garden with nearly 2000 paper roses also promises to be an attractive destination for students. The red and white rose garden at the international School SNA features meaningful messages. The multi-colored rose garden at Ba Ria Vung Tau University with 365 flowers representing 365 days of love offered to Mom. At other schools like the iSchool system and UKA, a lot of unique ideas were developed by teachers, both to respond to the program and to make the school's campus colorful and beautiful.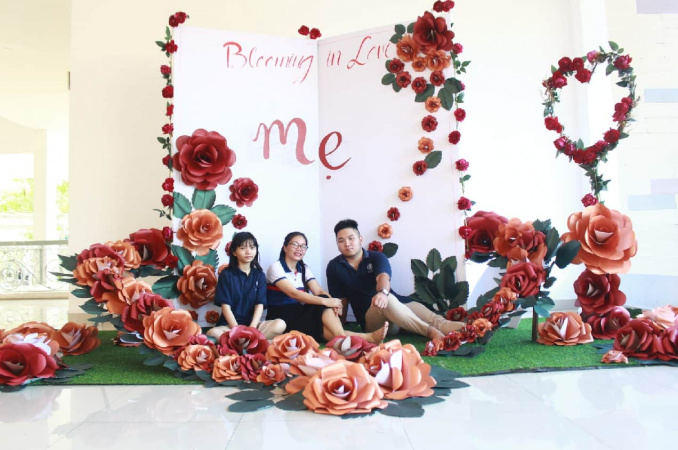 UKA Ba Ria's teacher and students finish decoration for the rose garden
Meaningful gift for Mom
During the pandemic time, students must stay home, but the Rose Garden design contest still received a positive response from teachers, lecturers, and students.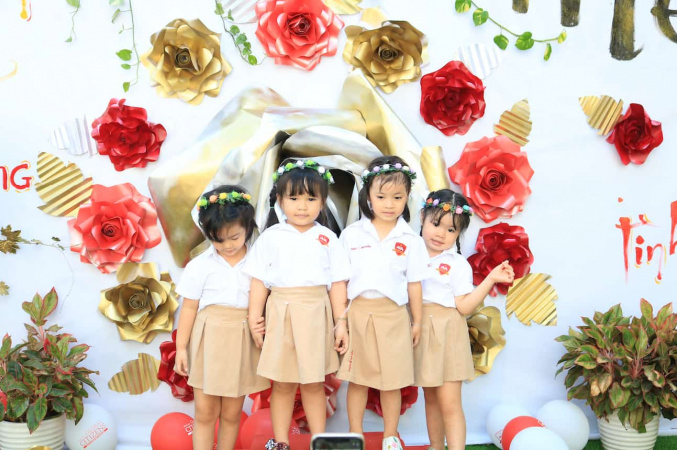 Young iSers check in at iSchool Ninh Thuan Rose Garden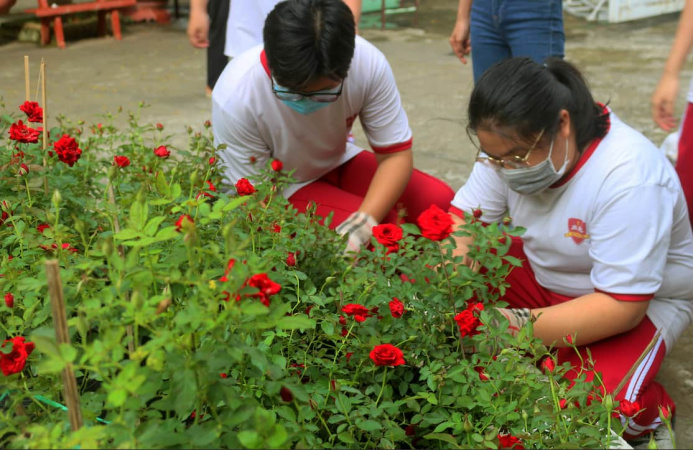 Students at iSchool Long Xuyen join hands to plant roses at the school
Many students have themselves made cards and paper roses to send to schools, contributing to the whole program. Many teachers, lecturers and employees worked in extra time to create brilliant rose gardens. It is the meaningful, humane messages and loving hearts for the mother that are the reason why the "Special Rose Garden for Mom" has received great attention from all.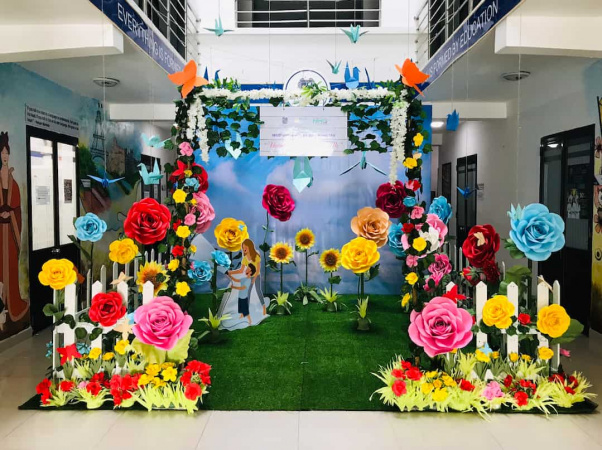 "Special Rose Garden for Mom" at UKA Gia Lai
In addition, for those who cannot directly participate in the construction of rose gardens get the opportunity to share with their mothers, Nguyen Hoang Group also initiated the "Online Rose Garden" idea. Just click on the unblown rose on the landing page (https://melatinhyeu.nhg.vn/) and send a message to your mother, each person will donate a bright red flower to 1000 roses in the online rose garden.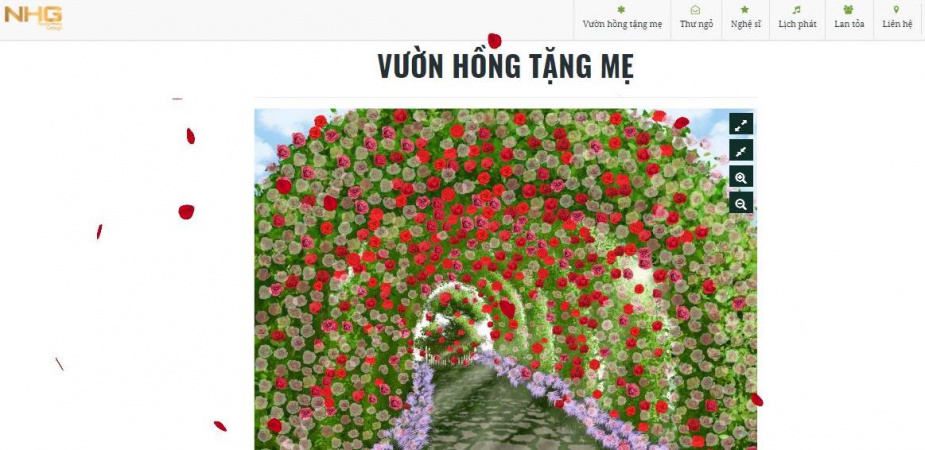 The online rose garden is an interesting activity for those who would like to send messages of love to their mothers
The luckiest messages will win gifts from the organizers of the program. This is a meaningful activity for everyone, those who have a mother but are still shy and do not dare to confess to their mother can write all the words of love to their mother.
Hopefully, through the "Special Rose Garden for Mom", all will show their deep and true love to their mothers, care for them, cherish and love them more.
Let every day be your mother's day!