NEWS
A letter of condolence from CEO of NHG to Singer Phi Nhung
After a battle with Covid - 19, singer Phi Nhung, parent of the Nguyen Hoang educational System, passed away on September 28, 2021, at Cho Ray Hospital. Her death is a grievous loss to her family and admirers and the Nguyen Hoang educational System (NHG).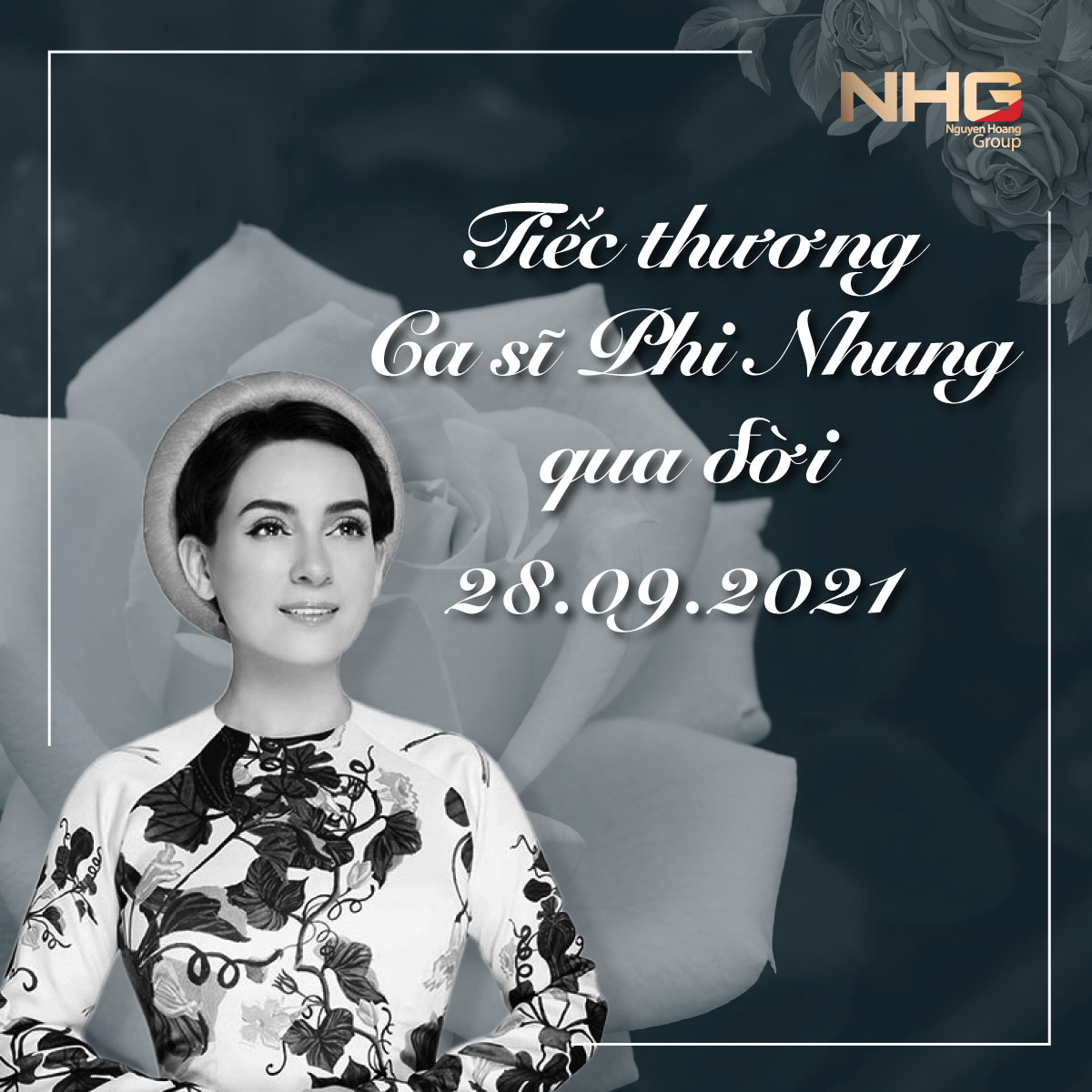 Singer Phi Nhung passed away on September 28
Henceforth NHG has lost a lovely parent who is always passionate and enthusiastic in all educational and artistic projects. Mrs. Hoang Nguyen Thu Thao, General Director of Nguyen Hoang Group, had her sentimental words to singer Phi Nhung as a deep appreciation and an inconsolable farewell. 
----------
Dear Ms. Phi Nhung, 
"Singer Phi Nhung drew her last breath at 11:57 am," according to the national press on September 28, 2021. This news has left your loved ones, including us, totally numb with grief. It appears that the silent prayers of so many people who followed you during your 45 days of fighting the misery of this dreadful disease were not heard. Our hearts were heavy with sadness and a sense of disappointment.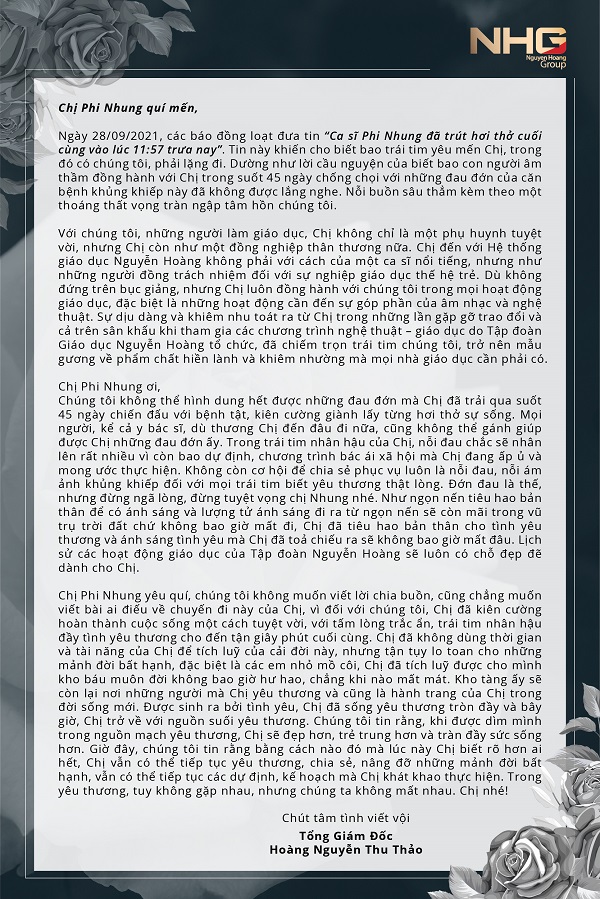 You are not only a great parent but also a dearly beloved colleague to us educators. You are here with Nguyen Hoang educational System, not as a well-known singer, but as a co-responsible for the noble mission of educating the next generation. Although not standing on the pulpit of the classes, you are always willing to accompany us in all educational events, especially those that demand the involvement of music and art. The tenderness and modesty radiated from you in group meetings, conversations, and on stage when participating in art-education events held by Nguyen Hoang Group, won our hearts and became an excellent demonstration of the meek and humble qualities that every educator should possess. 
We can't imagine the agony you had to endure during your 45-day battle with the disease, struggling for every breath you could get. No one, including doctors and nurses, can help you with your pains, no matter how much they adore you. The sorrow in your good heart will be undoubtedly multiplied because there are the plans and social charity activities you're hatching and desiring to do. For every heart that sincerely loves, having no more possibilities to contribute and serve is always a pain, a dreadful obsession. It's painful, but please don't be discouraged or despair! You have sacrificed yourself for love and light, just as a candle consumes itself to emit its light, and the quanta of light emitted by the candle will be remained in the universe forever and never be perished. The history of Nguyen Hoang Group's educational activities will always have a wonderful place for you. 
We do not wish to send our condolences or anything for your loss because, in our belief, you have persevered in living a life with a great heart and compassion until the very end. You did not devote your time and abilities to accumulating the wealth of this world but rather to caring for unfortunate lives and orphans, so you lay up yourself a treasure in heaven, which is eternal, and which fadeth not away. That treasure will live on in the people you loves and will accompany you into the afterlife as your belongings. You were created out of love and lived a life full of love, and now you returns to the fountain of love. We believe that by immersing yourself in the wellspring of love, you will become more beautiful, fresher, and more energetic. Now, we trust that, somehow, you know more than anyone else, you will be able to continue to love, share, and assist the unfortunate ones and be able to carry out your ambitions. In love, even if we do not meet, we do not lose each other. May you rest in peace!
Your sincerely, 
Hoang Nguyen Thu Thao 
CEO