NEWS
America's prestigious Marianapolis Preparatory School opens first branch in Dong Nai, Vietnam
On March 17, 2022, Marianapolis Preparatory School (MPrep) holds an official inauguration ceremony in Bien Hoa, Dong Nai (Vietnam), celebrating the opening of the SNA Marianapolis International School – Bien Hoa Campus.
With the philosophy of "School for future leaders", SNA Marianapolis International School – Bien Hoa Campus commits to making progressive changes, providing the best education system to the next generation of extraordinary leaders in Bien Hoa, Dong Nai, and Vietnam.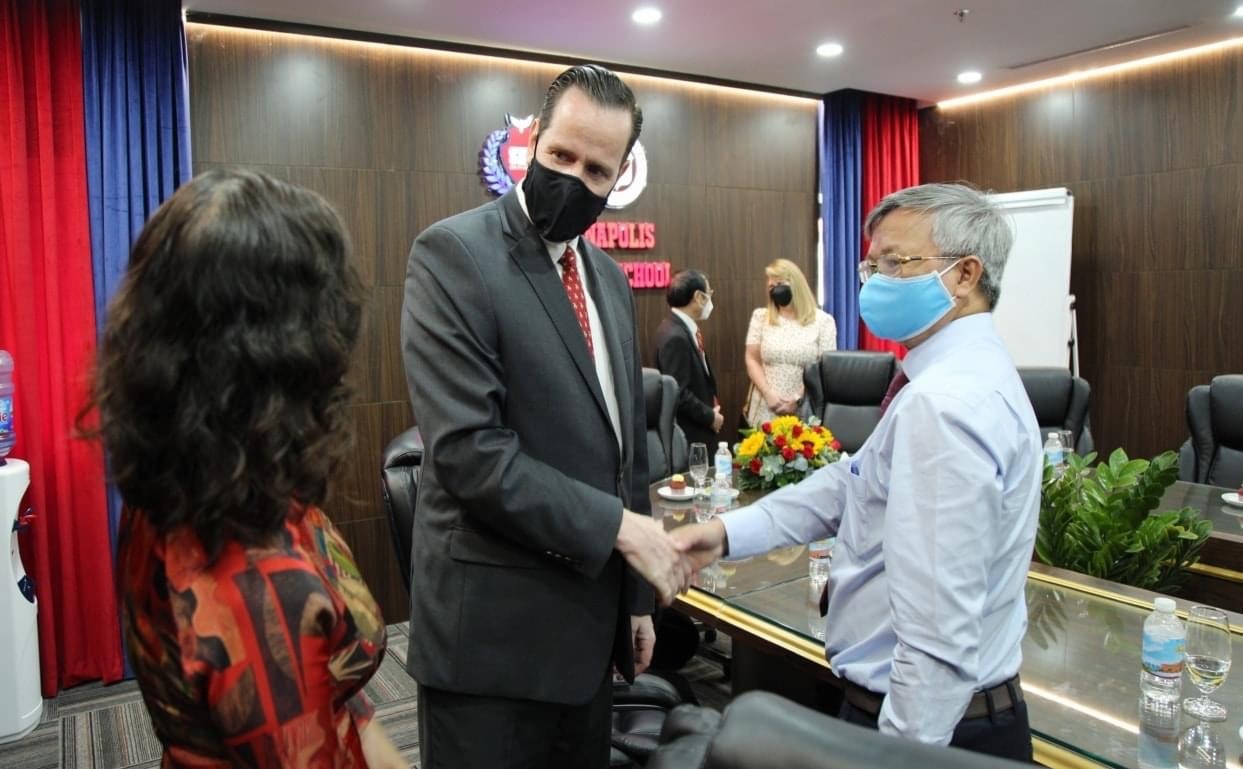 Mr. Cao Tien Dung - Chairman of Dong Nai Provincial People's Committee and Mr. Josweph Hanrahan - Head of Marianapolis School in the United States and the branch in Dong Nai, Vietnam.
The Marianapolis Preparatory School is a top-rated, independent, and boarding school located in Connecticut, the United States with a rich history of over 100 years. In addition, 100% of graduated students are accepted to prestigious universities across America and worldwide.
From Marianapolis Preparatory School's headmaster, Joseph Hanrahan, "I hope it is understood that the Marianapolis School—in the U.S.—is one with the SNA Marianapolis International School, with shared teaching philosophies and academic visions. We recognize parents' and students' emphasis on excellence in education; we hold the same high teaching standards that have been proven to stand the test of time here at Marianapolis since our establishment in 1926. Currently, with over 300 students during the first operating period of Bien Hoa SNA Marianapolis International School, we inherit and adhere to these highest standards to foster a robust, thriving learning environment and boarding life, at the same time offering sophisticated preparations for advanced pursuits.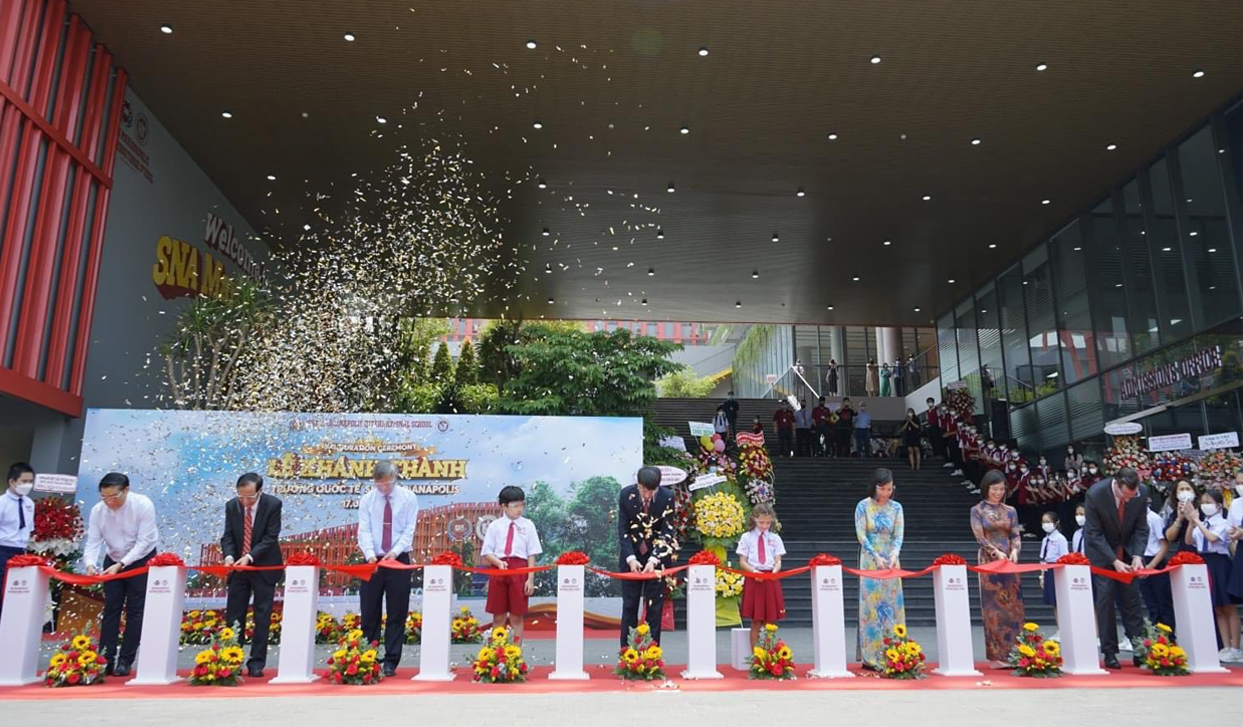 Representatives of the Ministry of Education and Training, leaders of Dong Nai Province, the Board of Directors, and students of SNA Marianapolis Bien Hoa Campus cut the ribbon to inaugurate the school on March 17, 2022.
More importantly, alongside academic guidance, we aspire to develop character with integrity, compassion, and content in each student. Through the rigor of coursework and dynamic educational settings, students can grow into capable, self-directed adults with vision and purpose; Thus, cultivating the resources to facilitate meaningful changes-not only within the school campus but also in the current globally connected world."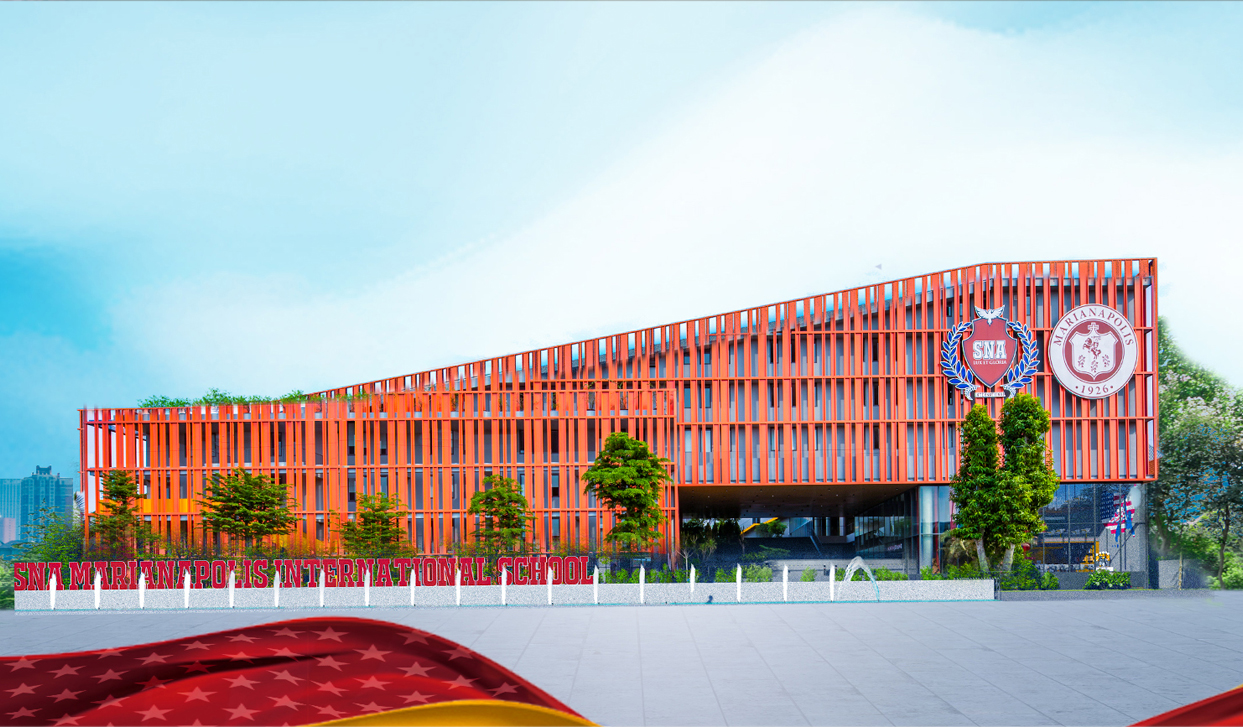 SNA Marianapolis Bien Hoa Campus - the first campus of Marianapolis Preparatory School (the U.S) offers levels from elementary to high school
SNA Marianapolis International School – Bien Hoa Campus, with a total area of 33.420m2, facilitates an international learning experience through modern infrastructure, similar to its counterpart in the United States. Along with the moving cube architecture expressing the desire to reach the sky of knowledge, the campus is the perfect combination of the application of green space and open learning space.
The SNA Marianapolis International School—Bien Hoa Campus provides an effective learning environment in accordance with international standards, which optimizes teaching and learning performance through specialized areas such as a hall room with full equipment, sound, and light, arranged in a theater-style and accommodating 800 seats; a two-storey library area with open space for research, reading, and academic exchange, and extended reading resources via a technology-based platform; a laboratory, functional rooms with modern equipment to meet students' needs for experimentation and research.
Sportsmanship is one of the top priorities through which the school aims to create a work-life balance after school hours. The SNA Marianapolis school – Bien Hoa Campus is equipped with a diverse sports environment, including a 583m2 multi-purpose stadium, a basketball court, a swimming pool with Olympic standards, and a ceiling system (consisting of one 6m x 12,5m pool for elementary students and one 25m x 12,5m five-lane pool), a 1.215m2 FIFA standard football field, a 100m running track, etc.
Moreover, the SNA Marianapolis–Bien Hoa Campus has a nine-storey boarding area called Sulyna Dorm with a total of 96 rooms and up to 377 beds, and separate areas for male and female students. Sulyna Dorm, which has a modern, minimalist design, ensures that students and teachers have a safe and comfortable living space.
The SNA Marianapolis International School – Bien Hoa Campus continues to embrace the spirit and professional mindset of the Miniapolis U.S. and has preparations already underway to seek accreditation by the NEASC Commission on International Education (NEACAS). Furthermore, high school diplomas from SNA Marianapolis International are accredited internationally.

On the occasion of the inauguration, the SNA Marianapolis–Bien Hoa Campus offers scholarships that are worth up to 75 million VND, together with many opportunities for parents and students to participate in various activities at the school campus.

For more information, visit the school's website: www.snamarianapolis.edu.vn

Hotline: 0932 083 886