NEWS
Impressive Results Achieved from Nguyen Hoang Group's "Mother is Love" Program
After 2 months of organizing competitions as part of Nguyen Hoang Group's music program "Mother is Love", the organizers have received countless messages of love, contest video clips, and rose gardens from students of all ages and schools in the Nguyen Hoang Group Education System.
The Closing Awarding Ceremony of the "Mother is Love" Companion Contests serves to recognize the contribution and precious feelings outpoured by many people throughout the course of the program.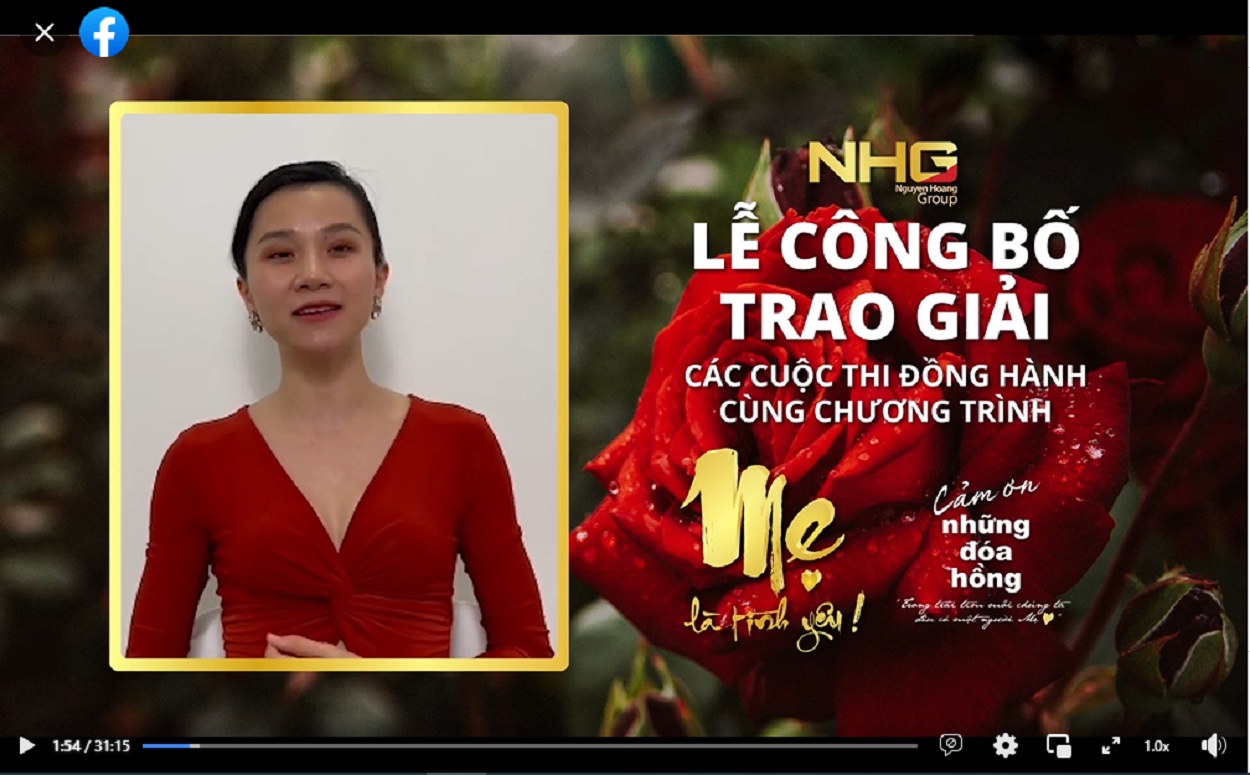 The Award Ceremony of Companion Contests the program "Mother is Love" is held online
Impressive Results of the Program
"Mother is love" is a music program organized by Nguyen Hoang Education System to remind people of the sacrifices made by our mothers. Along with the music program "Mother is love – Thank you for the roses", Nguyen Hoang Education System also organizes many activities for teachers and students to express their love through activities: Donating a day's salary, building a rose garden on campus, sending messages to your mother through the online Rose Garden, participating in the video contest "What I have Not Said to Mom"… This is an opportunity for students to practice expressing their appreciation, their love, sharing and gratitude to their parents.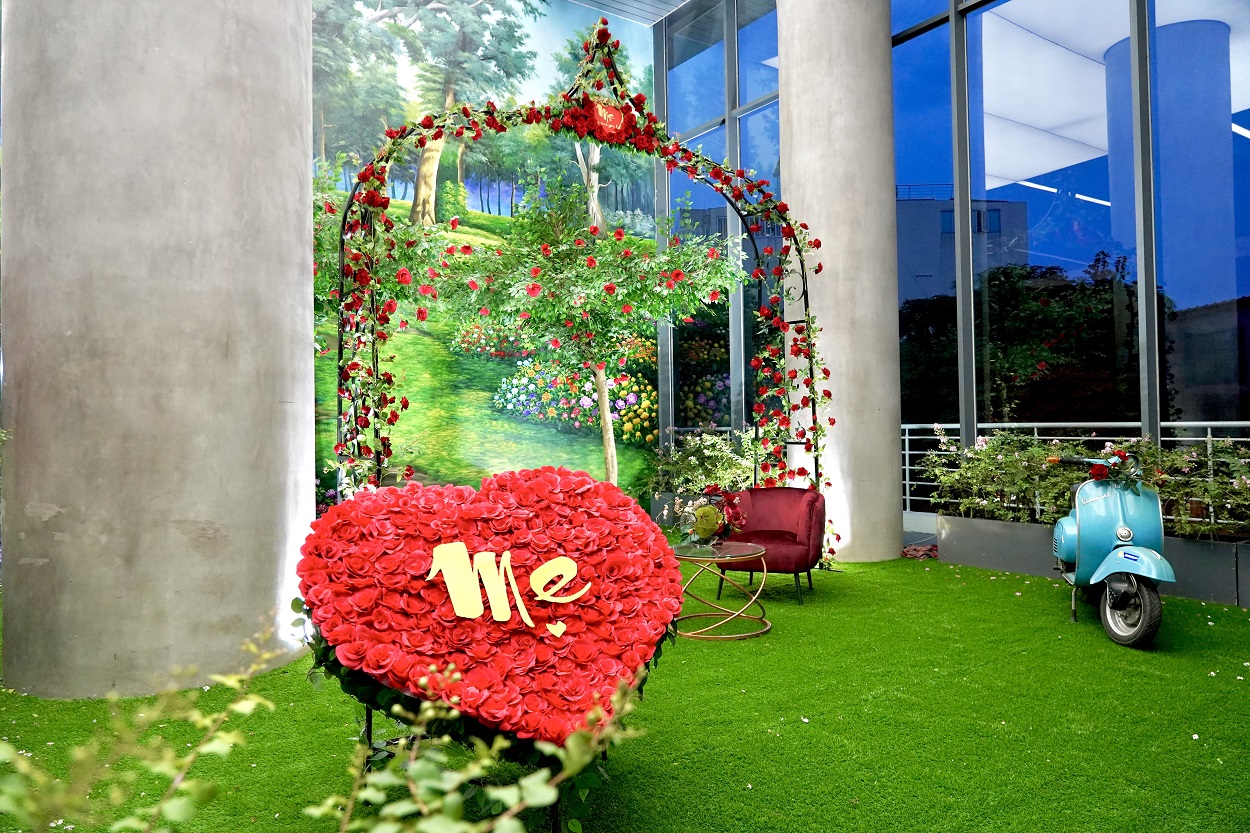 Rose garden for mother of Hong Bang International University won first prize
After nearly 2 months, nearly 30 rose gardens have been set up on many school campuses, the video contest "What I Have Not Said to Mom" has received more than 300 videos of submissions from students, more than 4,000 users have used the "Mother is love" Frame on Facebook with a meaningful message about Mother is posted. In addition, the online rose garden activity also received 1,148 meaningful messages and stories from everywhere as a message to mothers who have worked hard and sacrificed much in their lives for their children.
Starting the new school year with love
To acknowledge the sincerity, as well as the contributions of participants inside and outside the Nguyen Hoang Education System to the program, as well as to welcome the new school year, on the evening of September 19, the Closing Award Ceremony for the music program "Mother is Love" took place in an online. Although the organizers were not able to hand-deliver gifts to students due to the ongoing pandemic, the award ceremony was hosted successfully with warmth and meaning.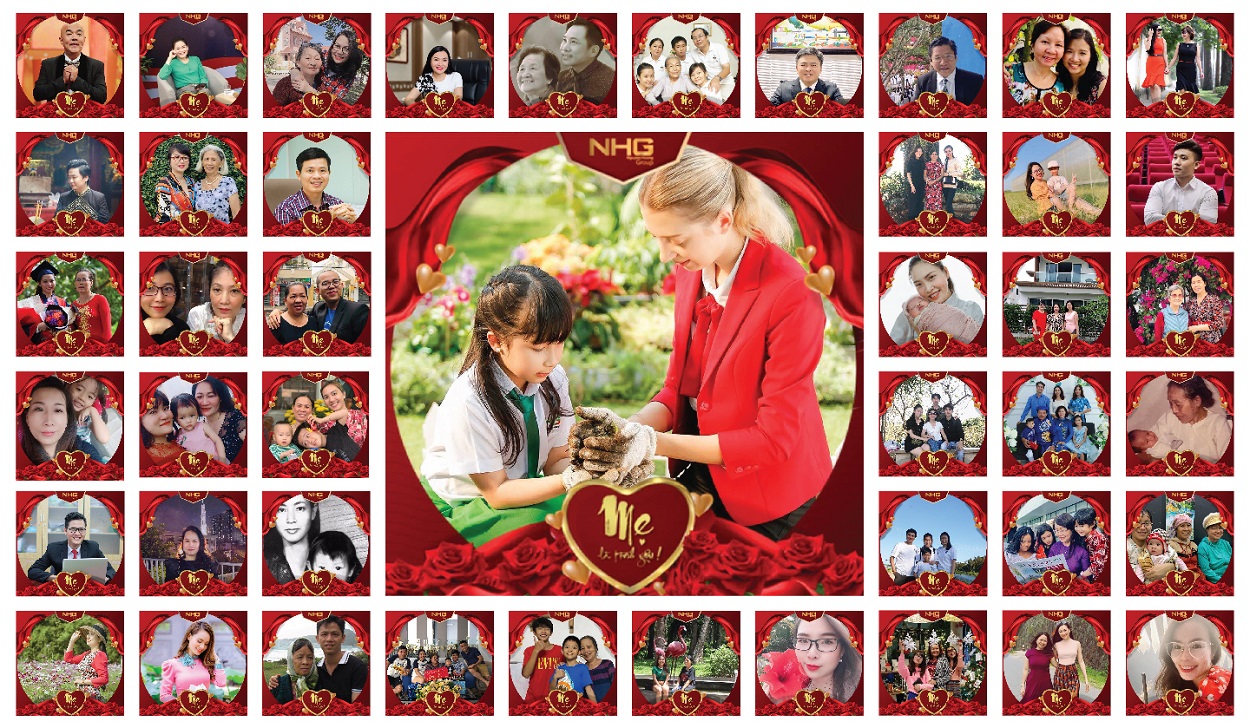 More than 4,000 Facebook frames with the program's message are posted
The first place in the Rose Garden Design Contest for Mother went to Hong Bang International University, the second place went to the Mien Dong University of Technology, the third place went to iSchool Ninh Thuan and the International Schools of North America System.
The contest "What I Have Not Said to Mom" also gave to 2 first prizes, 10 second prizes and 20 third prizes to participating students. In which, the first place of Group A for high school students and university students went to to Nguyen Thi My Linh – BVU, the first prize of Group B for elementary and junior high students belongs to Pham Hong Ngoc – Class 1A – iSchool Nha Trang.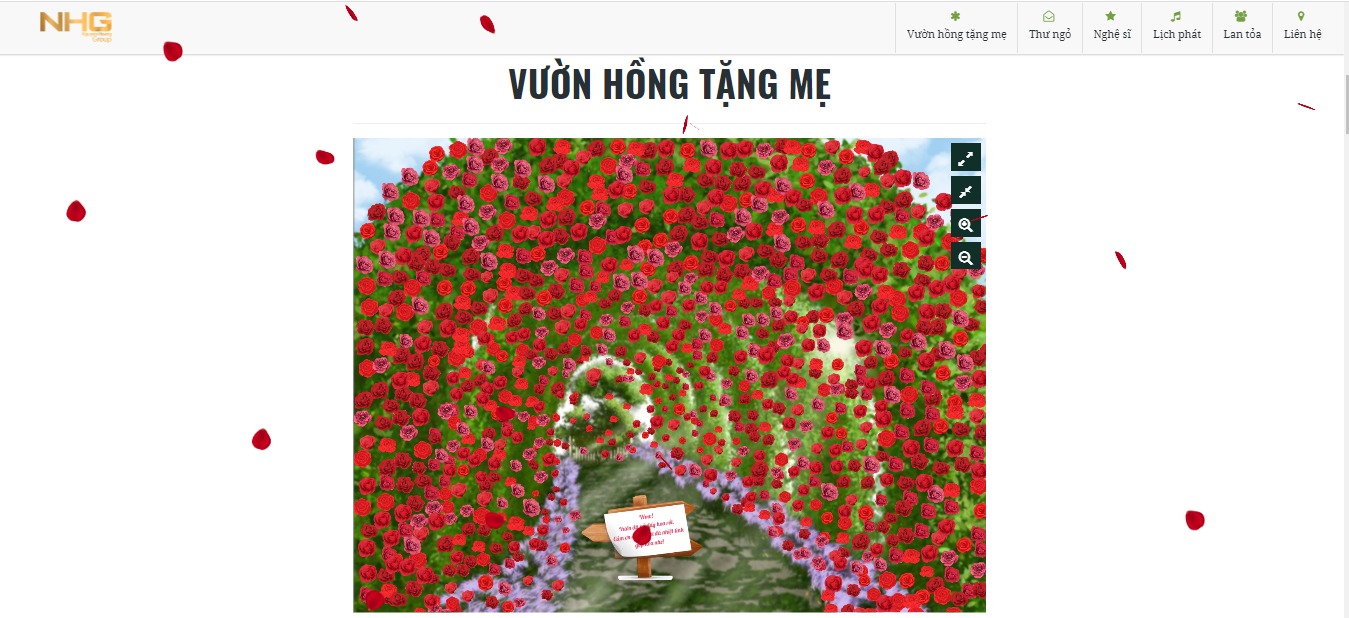 Online rose garden bloomed with 1,184 messages from participants
The competition between schools for their participation effort found 27 prizes: 1 first prize belongs to the Mien Dong University of Technology (MUT); 3 Second Prizes: SNA South Saigon, iSchool Rach Gia, iSchool Nha Trang; 8 Third Prize: Hong Bang International University (HIU), SNA Marianapolis, iSchool Long Xuyen, iSchool Cam Pha, iSchool Ha Tinh, iSchool Quy Nhon, iSchool Quang Tri, iSchool South Saigon; 15 Consolation Prizes: Gia Dinh University (GDU), Ba Ria Vung Tau University (BVU), Hoa Sen College (HSC), IEC Quang Ngai, UKA Binh Thanh, UKA Hue, UKA Ba Ria, UKA Da Nang, UKA Gia Lai, UKA Ha Long, iSchool Ninh Thuan, iSchool Bac Lieu, iSchool Tra Vinh, iSchool Long An, iSchool Soc Trang. In addition, the organizers also awarded 20 prizes to the most meaningful messages sent to Mother from the Online Rose Garden.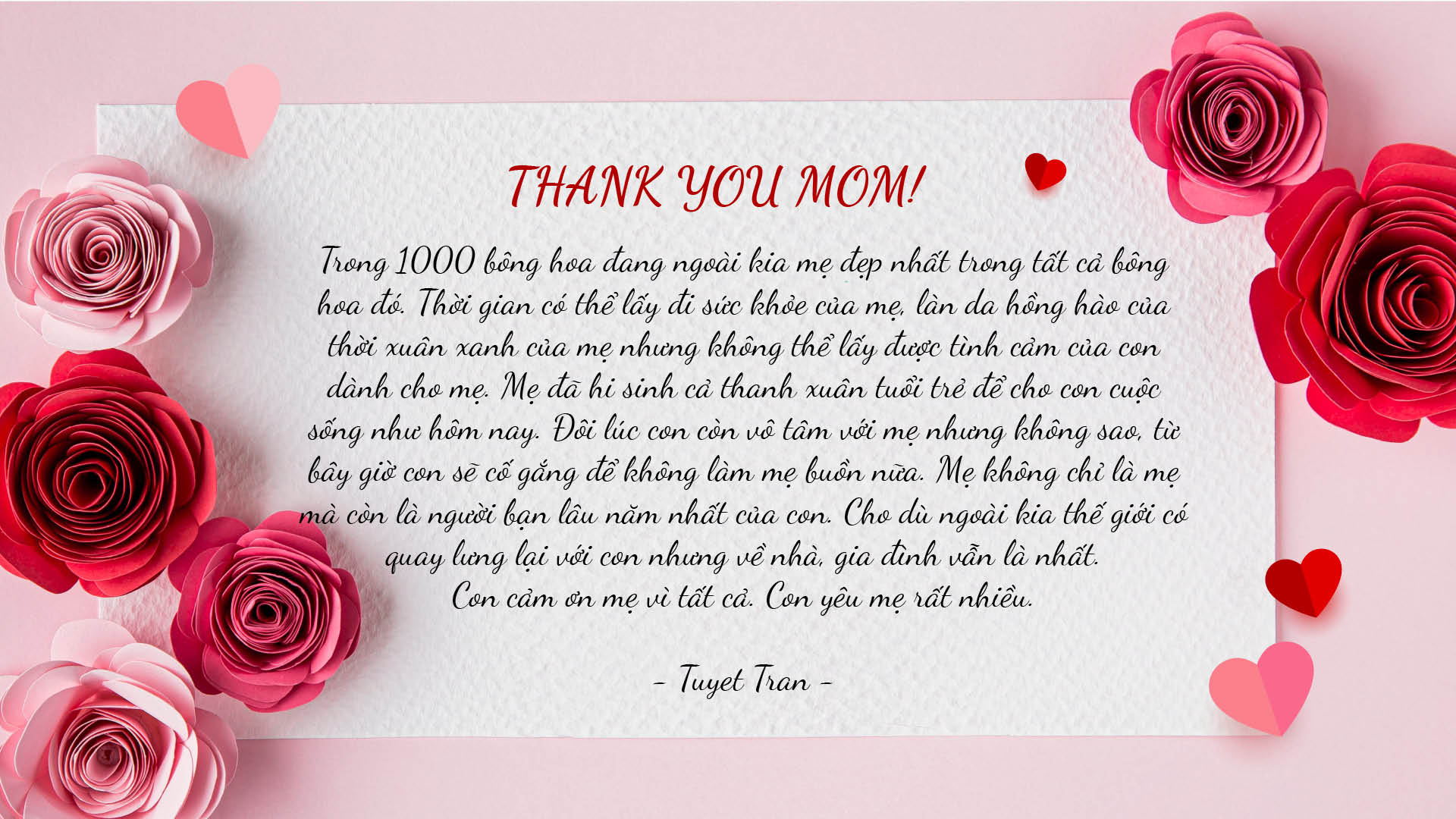 A meaningful message from the online rose garden
Speaking at the Award Ceremony, Dr. Do Manh Cuong – Deputy CEO of NHG said: "For society, the program Mother is Love is a music program to express filial piety to parents and family, but to members of the Nguyen Hoang Education System, this is a cross-cutting educational program. We don't sing on stage, but we sing with actions, deeds, results of work and study. Our deeds don't stop when the spotlight goes out, but will continue every day and every day of this new school year. We will all form a choir with echoing voices so that by the end of the school year, each of us, the students' faces, will be radiant and full of happiness".
The success of the program Mother is Love comes from the contribution and positive response from all individuals and groups of NHG. Hopefully, with these meaningful activities, we will all learn to love and cherish our mothers more, especially always spreading this love to many people in this new school year and forever.
Y NHUNG