NEWS
Nguyen Hoang Group & Humanity In Pandemic-Ravaged Saigon
Amid the extremely stressful Covid-19 epidemic in Ho Chi Minh City, people must stay home for safety, there were young people and volunteers, including students from universities in the Nguyen Hoang Group system, working hard to bring more 100 tons of food reliefs donated by Ha Tinh province's residents to the needy in the city.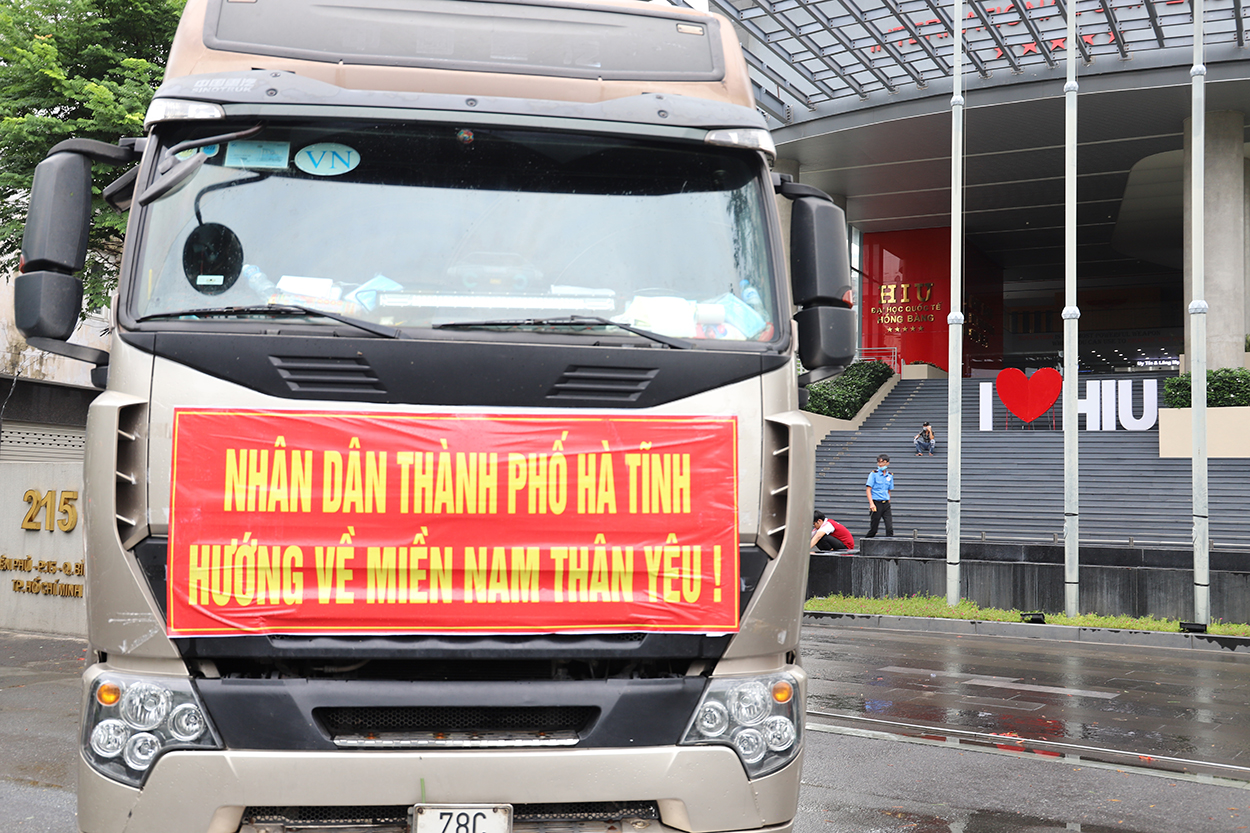 Relief goods from Ha Tinh people transported to HIU on July 23, 2021
Due to the prolonged effects of the pandemic, many city dwellers face difficulties as their income has fallen, many students in provinces studying in Ho Chi Minh City are stuck in the city, unable to return to their hometowns. The Ho Chi Minh City Youth League and singer Thuy Tien together with her husband, former famous footballer Cong Vinh have received more than 100 tons of essential foods donated by the people of Ha Tinh province to city dwellers.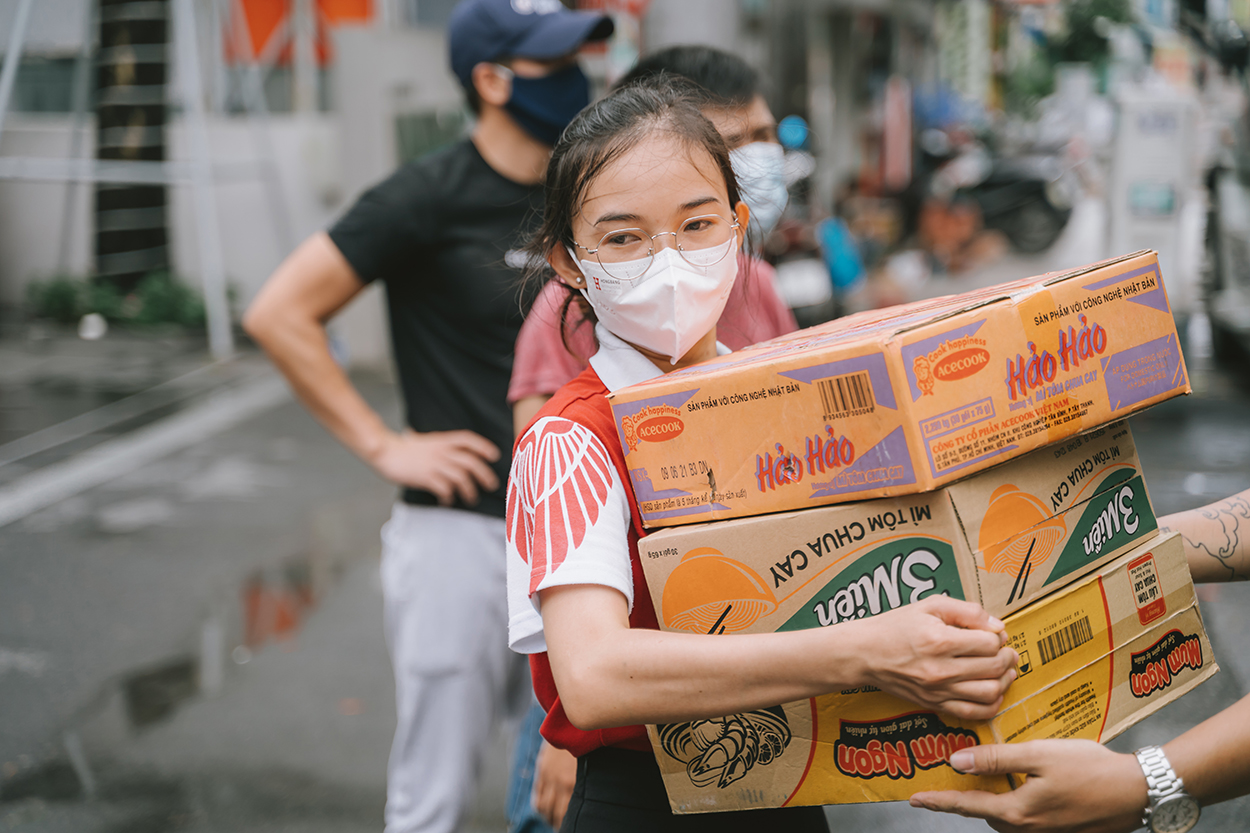 Students in the NHG system join relief work
Volunteer students from Hoa Sen University (HSU), Hong Bang International University (HIU), Gia Dinh University (GDU) gathered at 215 Dien Bien Phu, Binh Thanh – HIU's main campus to join unloading, sorting and then delivering to places such as charity kitchens, disadvantaged people in the city.
Sharing while participating in the coordination of goods to quickly deliver to people affected by the epidemic, Mr. Bui Huy Cuong – representative of HIU's Youth League said that this year many students from provinces have decided not to return home.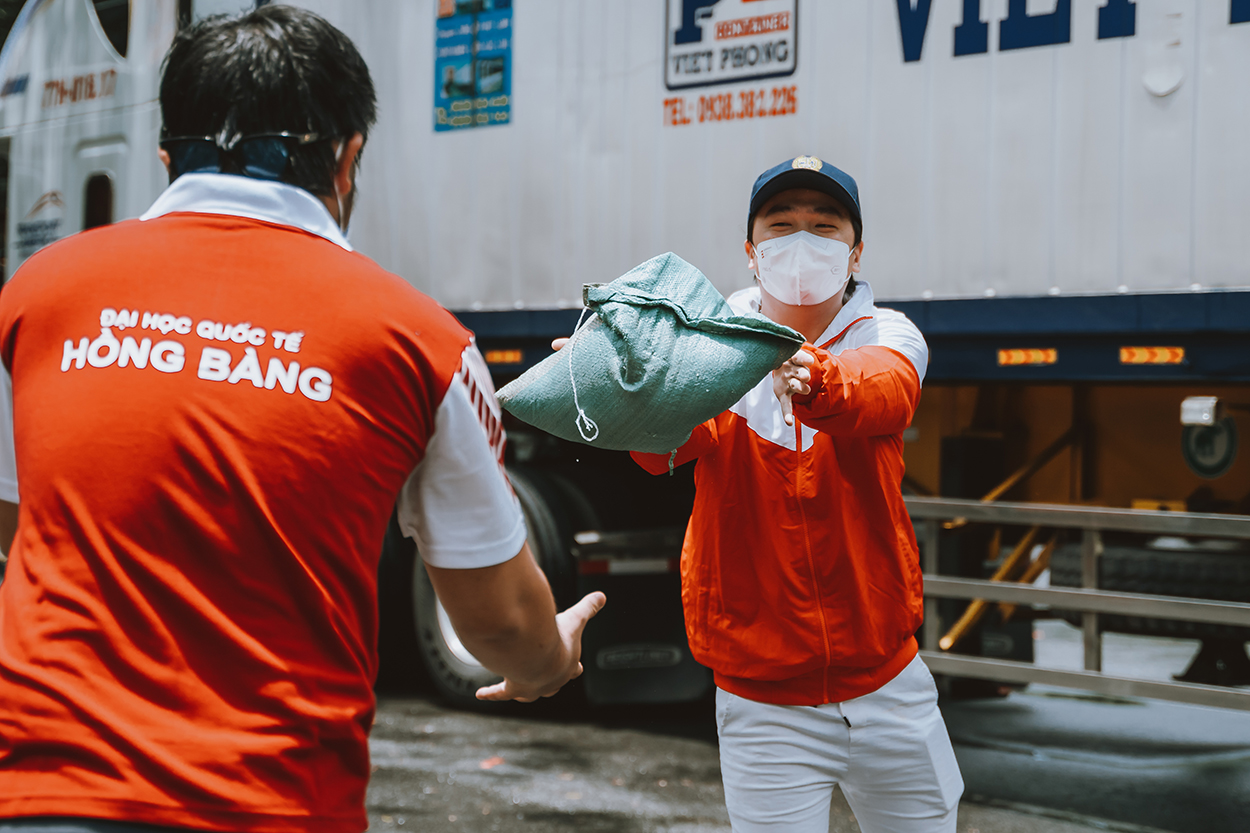 HIU students unload the donated essential foods
In several weeks Ho Chi Minh City has implemented social distance and these students studied online. As soon as receiving information from HIU, knowing that the people of Ha Tinh province sent essential goods to Saigon people, they volunteered to assist in transporting and arranging goods, with the desire to help people with others.
Truong Thi My Linh, a 2nd-year student at HSU, who is currently deputy head of the HSU Green Summer Campaign 2021, while putting dried food in bags, shared: "I was really scared at first because the pandemic is stressful and going here and there is difficult, but I see that my difficulties are nothing compared to those facing many people out there. I take that as energy to continue participating in supporting people. I wish the pandemic to be rapidly under control so that everyone can return to normal life."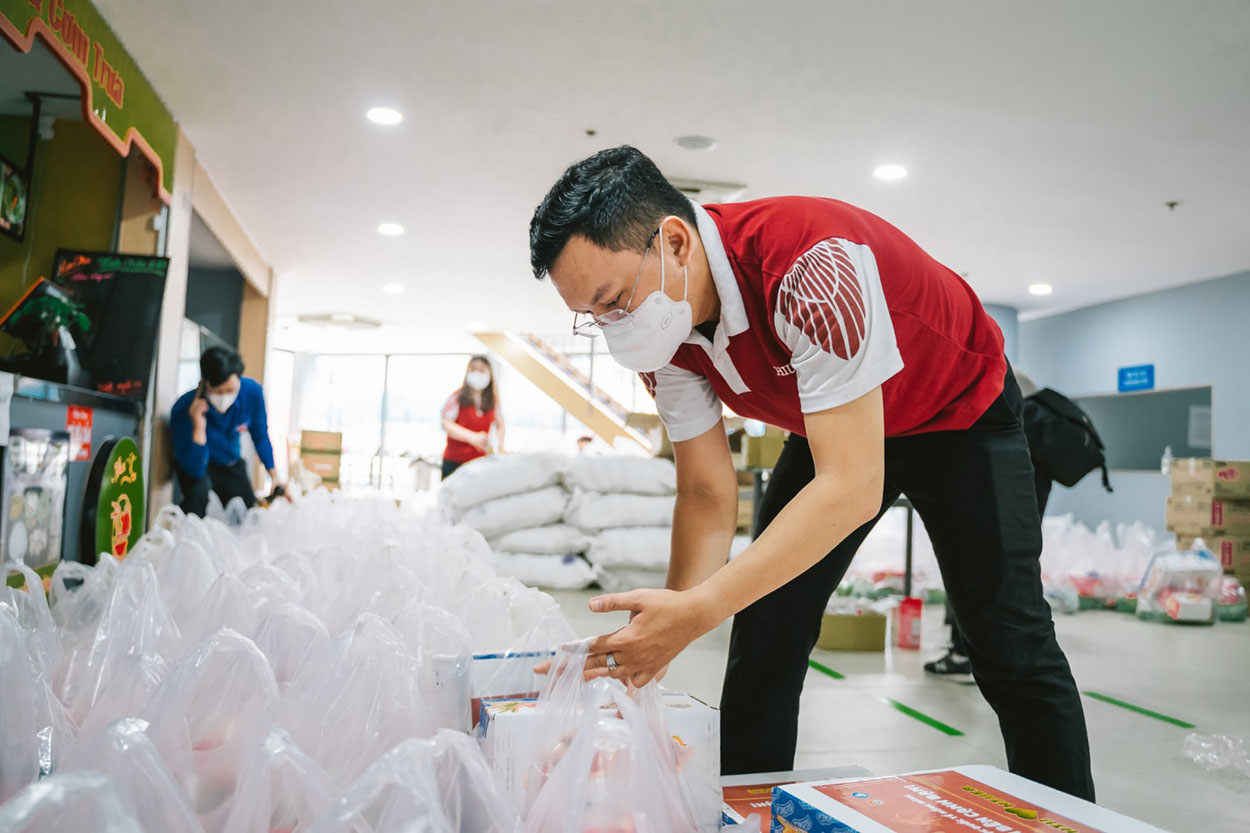 Mr. Bui Huy Cuong from HIU's Youth League joins the community support program during the epidemic
Dang Quoc Anh, a first-year English language student from Gia Dinh University, said that he planned to participate in the "Green Summer" this summer in provinces with senior students, but due to the epidemic, the plans have changed. "For me, this is the first green summer, it's special. No matter what I do, when I help and support everyone, I find it meaningful. Not only me but also many other friends always want to do something to contribute, and this time is one of those opportunities," he said.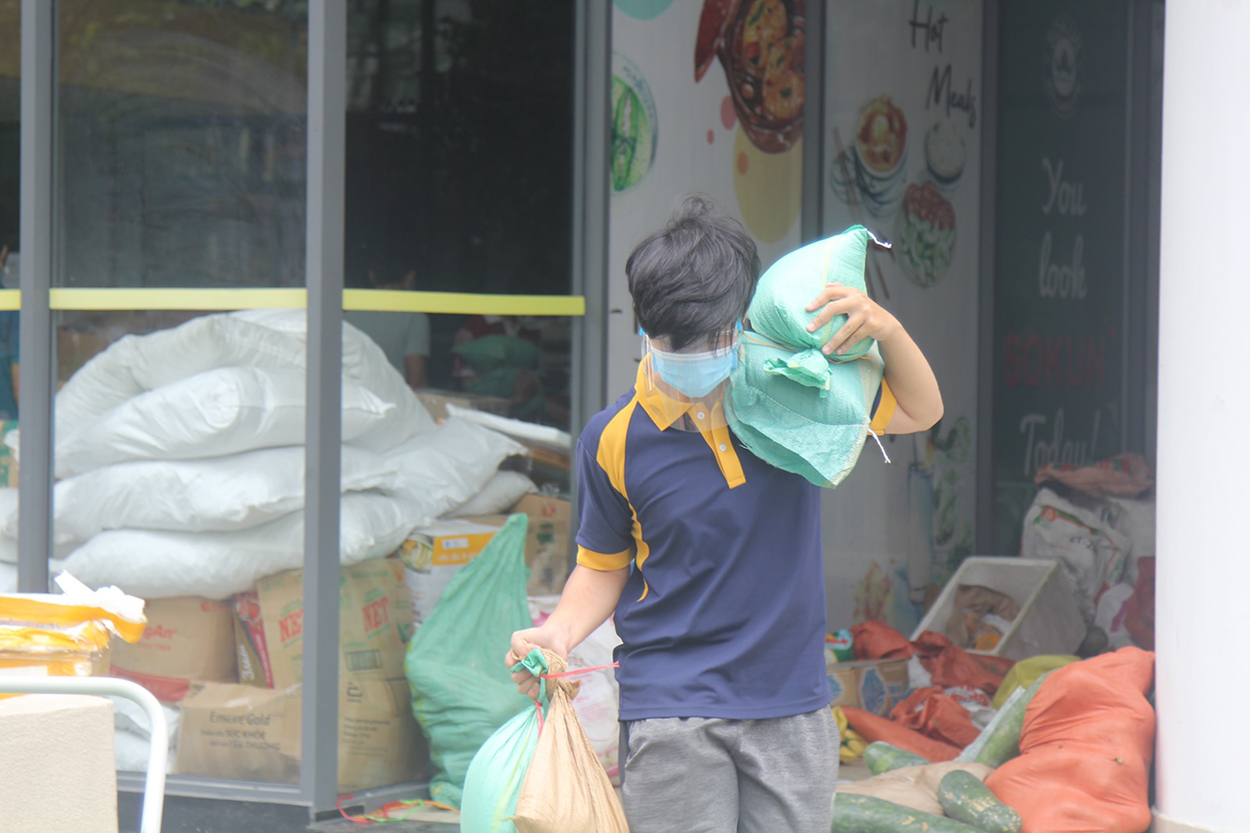 Gia Dinh University student Dang Quoc Anh joins the community program
As the gifts from Ha Tinh people are packed very carefully, the students of Nguyen Hoang Education system said that when holding the packages in their hands, they can feel the respect and affection for the people deeply in them, and they are really touched.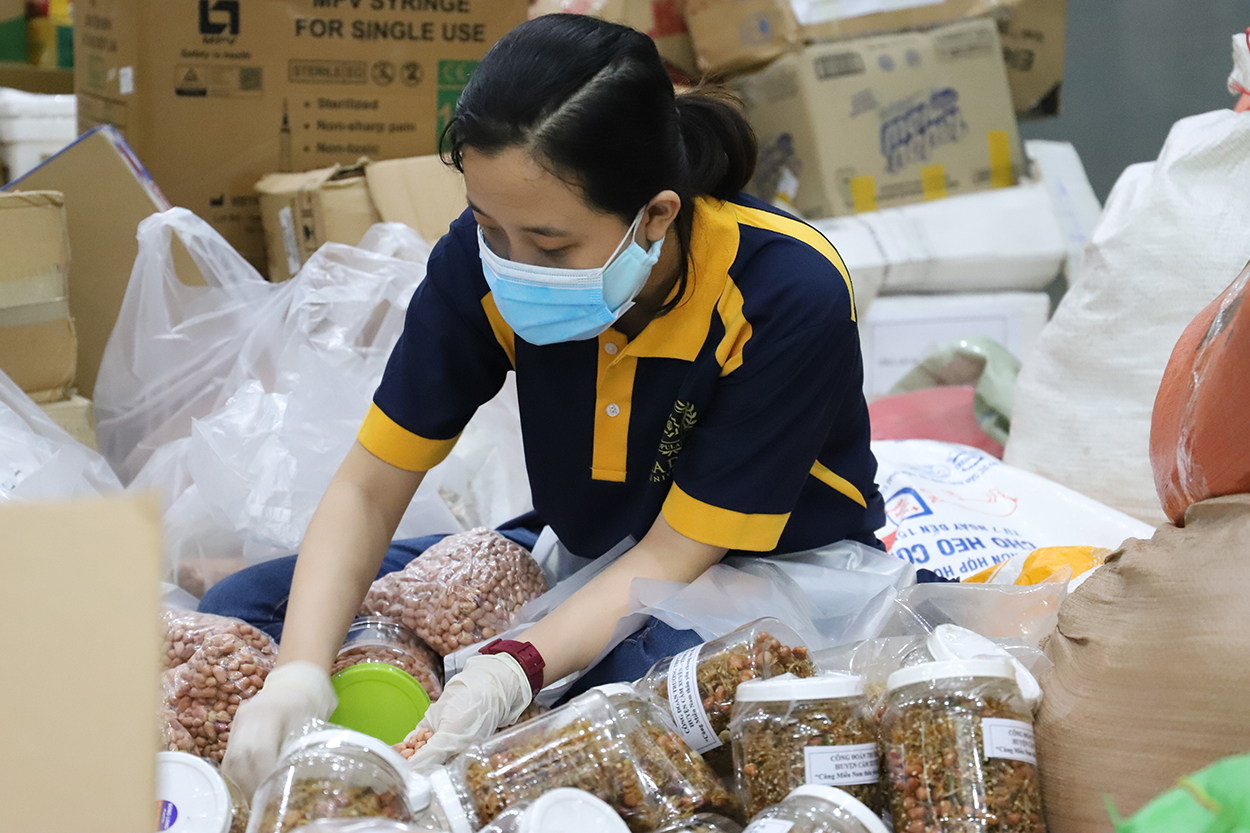 The goods from the people of Ha Tinh contain a lot of love sent to Saigon people
Before the food reliefs from Ha Tinh came, students from NHG universities had donated and prepared 1,350 gifts to send to their students. Hong Bang International University's Youth League and donors prepared more than 1,000 gifts of necessities and foods and sent them to HIU students staying in the city and disadvantaged families in HCMC. More than 400 kg of vegetables, 2,000 kg of rice, 360 kg of fruit, more than 120 boxes of instant noodle, canned fish, dried pork products were packed by volunteers and timely delivered to the needy.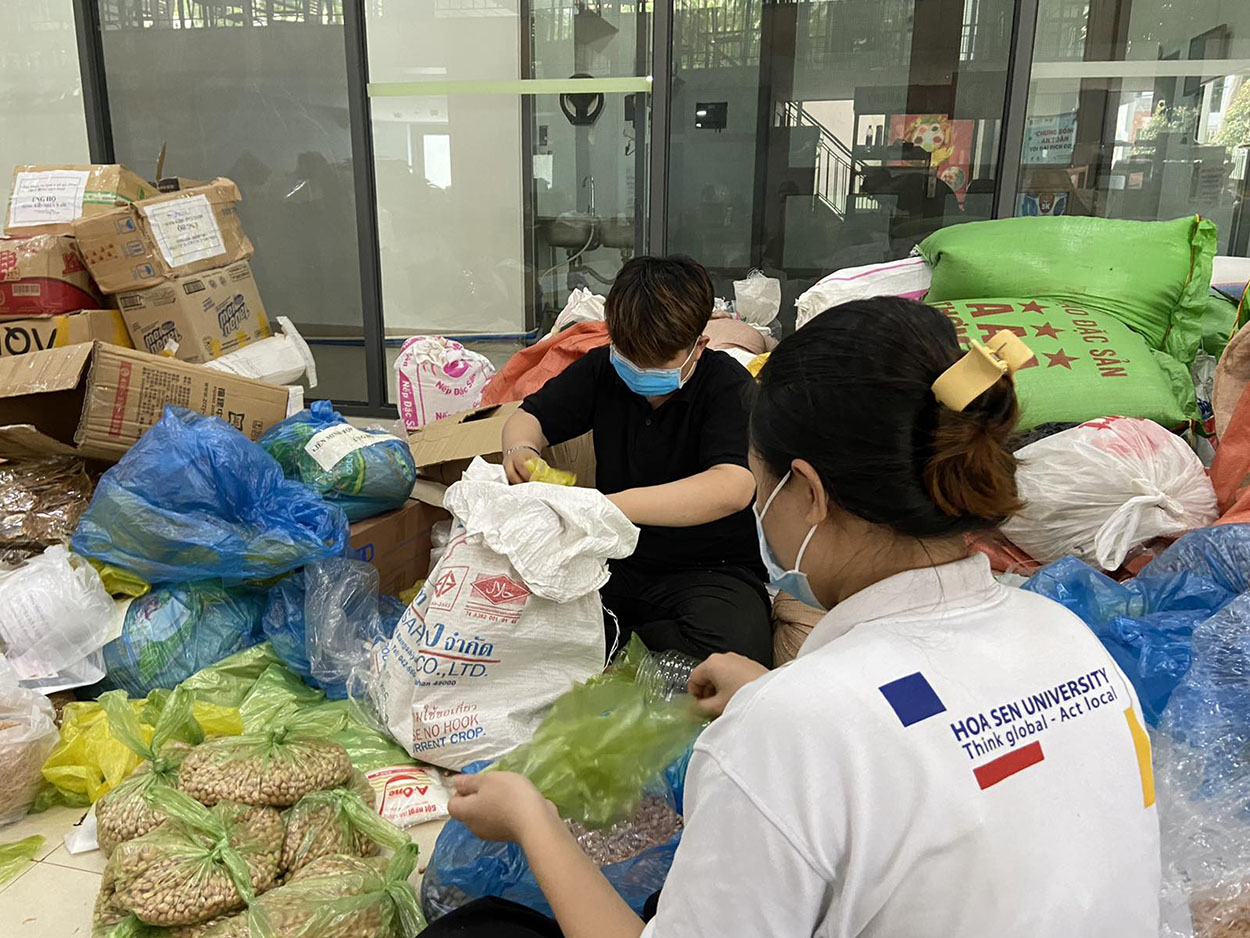 Hoa Sen University students prepare essential foods to send to those in need
At Hoa Sen University, with support from staff, teachers, and partners, 250 gifts including necessities such as instant noodle, vegetables, rice, etc. worth more than 75 million Vietnamese dong were quickly delivered to HSU students stuck in the city, unable to return to their hometowns to avoid the epidemic.
The Student Job Experience Center of Gia Dinh University also sent 100 gifts to GDU students.
THUY HUONG