NEWS
Receiving U.S. high school diplomas in Vietnam: an open door to to the world
Nguyen Hoang Group (NHG) in collaboration with two prestigious school partners in the U.S. will help Vietnamese students take international study opportunities right in Vietnam with the U.S. high school diplomas.
In order to provide students and parents the best educational solutions, NHG has built two options to get the U.S. diploma in Vietnam: Direct learning at SNA Marianapolis - Bien Hoa Campus, a school with international standards from facilities to training programs, operations and teachers; Online learning with direct interaction (aka Blended Learning) with the program of Providence Country Day - Vietnam Campus.
Option 1: Direct learning at SNA Marianapolis - Bien Hoa Campus
SNA Marianapolis - Bien Hoa Campus, a member of NHG, is the first fully international school in Bien Hoa city, Dong Nai province and the second school in the International Schools of North America (SNA) system in Vietnam. Graduates at SNA Marianapolis - Bien Hoa Campus will receive a U.S. diploma so that they can continue to study at international universities in Vietnam, America or other prestigious universities across the world. As scheduled, SNA Marianapolis - Bien Hoa Campus will be inaugurated in May 2021.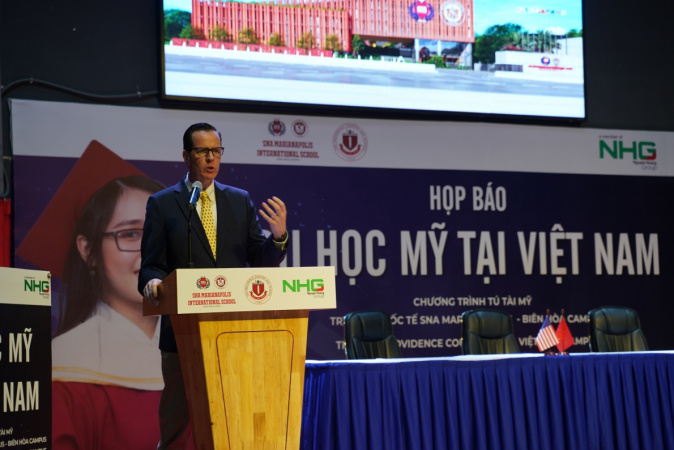 Mr. Joe Hanrahan, Head of School, SNA Marianapolis – Bien Hoa Campus, provides information at the March 5, 2021 event.
The school has signed a cooperation agreement with Marianapolis Preparatory School in the U.S. to teach the program of Marianapolis - a high school with 100% of students accepted into universities in America. Thanks to Marianapolis programs, studying at SNA Marianapolis - Bien Hoa Campus is the most intuitive opportunity for student studying abroad. Teachers, selectively chosen by Marianapolis Preparatory School, have a wealth of experience in teaching international programs and the ability to inspire students to develop optimal academic abilities and personal qualities, provide students the best experience to become the generation of "Future Leaders".
Option 2: Providence Country Day - Vietnam Campus
Providence Country Day (PCD) is a member of the Hudson Global Scholars (HGS), one of leading education fund Sterling Partners in America. In Vietnam, NHG is the exclusive provider of Providence Country Day's U.S. diploma program, implemented at NHG- affiliated schools namely the International Education City - IEC Quang Ngai, UK Academy system and iSchool system across 15 provinces - cities: Ha Long, Ha Tinh, Quang Tri, Hue, Da Nang, Quang Ngai, Quy Nhon, Nha Trang, Ninh Thuan, Ba Ria-Vung Tau, Ho Chi Minh City, Long An, Long Xuyen, Soc Trang, Rach Gia. The Blended Learning program (direct interactive online learning) has a team of Vietnamese tutors to ensure the best efficiency.
The first course of Providence Country Day - Vietnam Campus's U.S. diploma Program will start on March 8, 2021. The second course with natiion-wide enrollment is scheduled to open on June 7, 2021.
With a 6-semester study pathway in 2-3 years, this 100% English program will help students complete 6 international credits to receive a baccalaureate diploma along with 18 transferable credits from the program of Vietnam's Ministry of Education and Training. Students will learn online with direct interaction with teachers from PCD schools in the U.S., and direct classes with English teachers at the above NHG schools. They are recognized as local students of PCD, are allowed to participate in exchanges with friends from the PCD school system in the US and other countries as well as receive diplomas in the US upon completion. Especially, in the learning process, students are oriented and advised by PCD teachers to choose appropriate international universities to their abilities and interests.
Dr. Do Manh Cuong, Deputy CEO of Nguyen Hoang Group, shared: "The two above options are considered the best solutions in the current situation and Nguyen Hoang carries out them to help students get the U.S. diplomas right in Vietnam. In preparing for Vietnamese students to become global citizens, we realize that the biggest challenge is cultural difference in addition to knowledge and skills. Therefore, both programs of SNA Marianapolis - Bien Hoa Campus and the Providence Country Day - Vietnam Campus will help students solve all those problems. And the real value of both programs is that their U.S. diplomas will be accepted at the highest level from universities in America that are partners of Marianapolis School and the Providence Country Day. Thus, more Vietnamese students will become global citizens."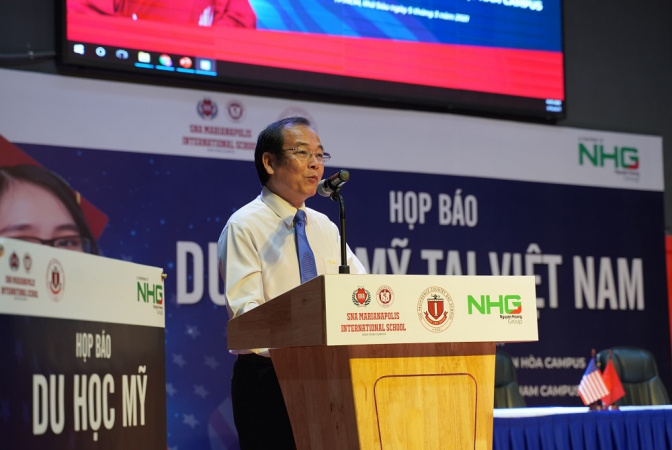 Nguyen Hoang Group Deputy CEO – Dr. Do Manh Cuong talks at the event.
Currently, Blended Learning method is applied more widely and is considered as an appropriate solution in the situation of COVID-19 pandemic which still affects students' learning activities on a global scale. With a complete international education ecosystem from preschool to high school, undergraduate and postgraduate, plus an expanding network of international partners, Nguyen Hoang Group has strived to provide Vietnamese parents and students with the two above options in order to get a U.S diploma without going abroad, thereby providing the best international study solutions while cutting cost compared to real overseas study.
NGUYEN HOANG GROUP