PARTNERSHIPS AND AFFILIATIONS
American Council of Education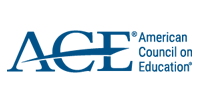 Founded in 1918, ACE is the leading organization connecting US higher education institutions and is the only organization representing all types of US educational institutions that are accredited and certified, reputable and influencing educational policies in the United States that many countries are referring to.
Nguyen Hoang Group (NHG) has officially become the first Vietnamese member of ACE.
The information is announced on ACE's official website, standing along with 1,700 members, including top prestigious schools and education organizations from America such as: Harvard, Stanford, UPenn, etc. and from other countries like: Canada; Australia; England; Hong Kong; China; Japan; Korea; etc.